Update : If you are interested in being part of BarCampBangalore shoot me an e-mail. Its on the extreme right top corner of this page.
Date : 8th & 9th April
Url : http://barcamp.org/BarCampChennai
Just marked my calendar and about to book tickets to Chennai to attend this BarCamp. Apart from meeting some like minded people, am hoping to meet some totally "unlike" minded people here. Lets see if this meet is of any use.
The first Bar Camp in India, happenned in Delhi, last week.
http://barcamp.org/BarCampDelhi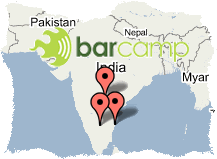 Wondering when the Bar Camp in Bangalore is gonna start. The blokes here dont get together as group often here or what?
Yea, i know, Bangalore is where the action is and everyone is busy working on their dream projects.
http://barcamp.org/BarCampBangalore
Via Kribs : BarCamp promotes the kind of exchange that happens at the best conferences during breaks and late into the night, plus plenty of time for fun. BarCamp is a gathering of those people, many of whom you won't have met before.

BarCamp is about passionate sharing of knowledge, camaraderie, and sheer learning of what the other guys are doing on the WEB 2.0 scene. One head is never as good as a 100 intelligent heads. If you are are into any web technologies, this is the place you want to be.